Presets
From any page of the player you can select one of the six presets (Concert, Intimate, Player, Pop, Ambience, Mighty), which automatically set the parameters for a particular use.
Concert
is a classical piano listened to from the audience, with all the reverberation of the hall.
In this excerpt from Scriabin, played after selecting the Concert preset, the ambience of the Synchron Stage is clearly perceived.
Intimate
and
Player
shift the perspective to the position of the interpreter.
Player
is particularly suitable for recording, because it contains the least amount of reverb, which can possibly be integrated with another reverb during mixing.
The Intimate preset is very close to the listener.

The Player preset offers the closest and least reverberant position.

A comparison can be made with another VSL piano, the old Vienna Imperial, with no natural reverb recorded, but processed with a convolution reverb.
Vienna Imperial, a Bösendorfer sampled with great accuracy.
Pop
is the piano used to accompany a pop of folk singer, warm and detailed at the same time.
Ambience
, very soft and reverberating, is dedicated to soundtracks, as is
Mighty
, with an even more diffuse reverberation.
The Ambience preset seems conceived for inspiration, perhaps while trying to compose a soundtrack or "ambient" music.

The Mighty preset is even more diffuse, with strong use of the delay between mics.

However, you are free to edit and save your settings. The possible customizations, as we have seen, are uncountable.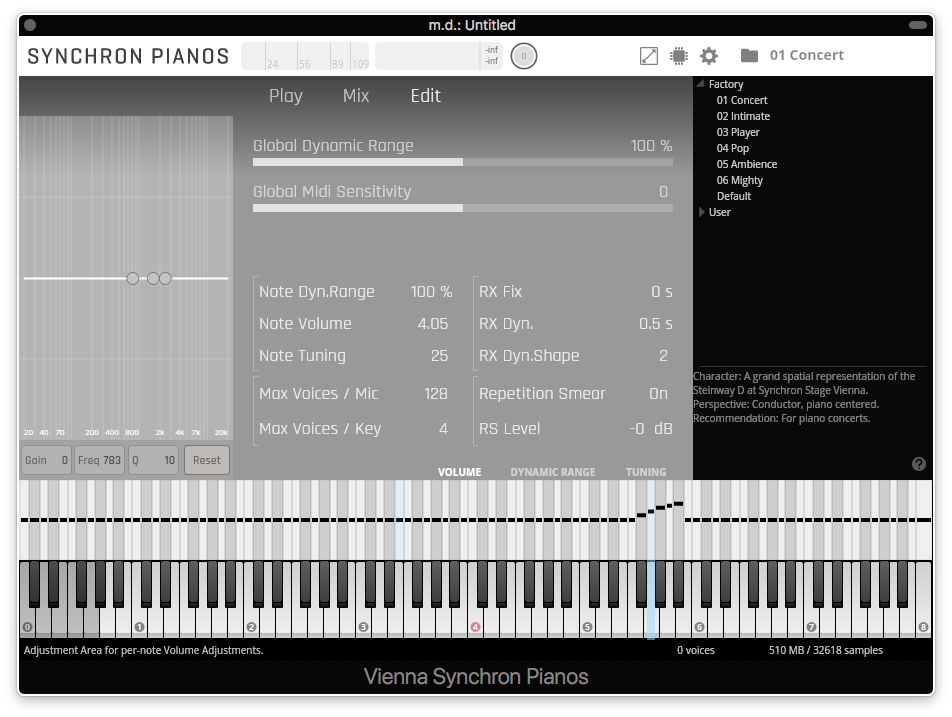 New presets can be loaded and saved.